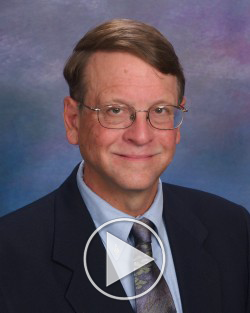 Lawrence P. Mueller, M.D., F.A.C.S., was raised in a northwest suburb of Chicago and graduated from the University of Notre Dame and Loyola University Stritch School of Medicine. He enlisted in the U.S. Army and, while on active duty, completed residencies in General and Cardiothoracic Surgery, achieving Diplomate status from both specialty boards. He served a two-year tour as a US Army general, thoracic and vascular surgeon attached to the 121st EVAC Hospital in Seoul, Korea. After ten years on active duty and achieving the Lt. Colonel rank, he was honorably discharged and entered private practice in rural central California. Dr. Mueller spent twenty-five years as owner of Yosemite Surgery Associates and then Yosemite Vein Center.
Dr. Mueller recently relocated to the northern Jersey Shore, where he is affiliated with Hackensack Meridian Health. His current vascular surgery practice, gardenstateveincare.com, specializes in advanced treatments for varicose veins and their complications. Dr. Mueller is a Fellow of the American College of Surgeons, currently Board Certified by the American Board of Surgery and the American Board of Venous and Lymphatic Medicine and is an Assistant Professor of Surgery at Rutgers New Jersey Medical School.
Dr. Mueller's interest in Third World surgery began during his military tour in Korea. Since the 40,000 U.S. troops stationed on the peninsula were medically screened and no major provocations had recently occurred, Dr. Mueller convinced the Hospital Commander to allow use of the Army hospital's facilities on a time-and-space available basis to provide free surgery to indigent Korean children. This program helped to keep Dr. Mueller's surgical team's skills sharp for potential hostilities, provided positive public relations for the US military in a foreign capital, and was especially beneficial for all the poor Koreans who were successfully treated. Dr. Mueller performed a wide range of surgical procedures from cleft lip repairs to treatment of "blue children" with congenital heart disease, for which he received formal Certificates of Appreciation from the Pearl S. Buck Foundation and the International Human Assistance Program. In addition to his medical mission work in Korea and on the Thai Burmese border, he also has performed volunteer surgery in Bangladesh and Vietnam.
While maintaining a full time surgical practice, from 1992 through 2015, Dr. Mueller spent up to a month every year volunteering his free time on self-funded mission trips to the northern Thai Burmese border.
A lifelong magician, Dr. Mueller is a member of the Magic Castle in Hollywood and the Society of American Magicians. He found the art of magic to be a highly effective social lubricant in foreign cultures for all ages and backgrounds, especially where language barriers exist. He shares his personal philosophy and many anecdotes about his use of the art in bringing unexpected laughter and delight to audiences from five to five hundred in venues ranging from deep jungle IDP hide sites, isolated villages, refugee camps and schools to his surgical ward itself.